The wide variety of Aluminum Roller Shatters of our company, addressed in every taste and adapt to any space. The straight boxes can be installed as trailers and externally and are available in many dimensions.
Technical data summary:
4 straight superjacent boxes.
Perfectly combined with all Aluminium architectural systems.
Suitable both for replacing previous roller shutters and new constructions.
Straight and oval slat drivers, with or without wing and a special reinforced aluminium slat driver.
Selection between 3 aluminium slats and 3 aluminium slats with polyurethane.
Special VENTILATED aluminium slat profiles with a 5mm gap between the vent holes for better ventilation.
Opening/ closing using a belt, hand crack or electric motor.
TECHNICAL CHARACTERISTICS
Aluminium Alloy : AIMgSi-0.5 F22
Hardness: 12 Webster
Minimum coating thickness: 75μm
Profile thickness: 1,3- 1,4mm
Tolerance according to: EN DIN 12020-02
Aluminium slat profiles : 7,3×28, 9,3×43, 14×55
Aluminium slat profiles with polyurethane:   8×39, 9×43, 14×55
Maximum dimensions of construction:
[av_tab_container position='top_tab' boxed='border_tabs' initial='1′]
[av_tab title='Box 14×14′ icon_select='no' icon='ue800′ font='entypo-fontello']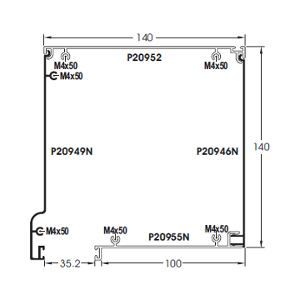 Box Height: 14cm
Box Width: 14cm
Maximum Heights
| | | | | | | |
| --- | --- | --- | --- | --- | --- | --- |
| Slat Axis | Η39 Polyurethane | Η43 Polyurethane | Η52 Polyurethane | 9Χ43 Aluminium | 14Χ55 Aluminium | 7,3Χ28 Ventilated |
| Φ40 | 1,40M | 1,30M | – | 1,10M | – | 0,70M |
| Φ60 | 1,30M | 1,20M | – | 1,00M | – | 0,60M |
[/av_tab]
[av_tab title='Box 14×17′ icon_select='no' icon='ue800′ font='entypo-fontello']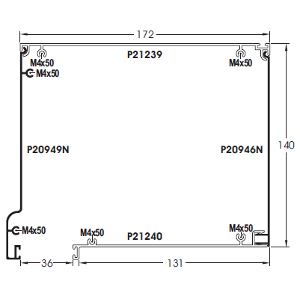 Box Height: 14cm
Box Width: 17.2cm
Maximum Heights
| | | | | | | |
| --- | --- | --- | --- | --- | --- | --- |
| Slat Axis | H39 Polyurethane | H43 Polyurethane | H52 Polyurethane | 9×43 Aluminium | 14×55 Aluminium | 7,3×28 Ventilated |
| Φ40 | 1,40M | 1,30M | – | 1,10M | – | 0,70M |
| Φ60 | 1,30M | 1,20M | – | 1,00M | – | 0,60M |
[/av_tab]
[av_tab title='Box 15,5×18,5′ icon_select='no' icon='ue800′ font='entypo-fontello']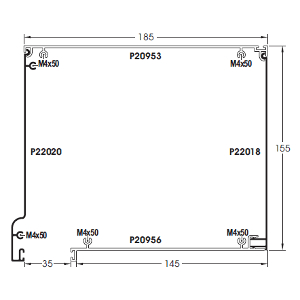 Box Height: 15,5cm
Box Width: 18,5cm
Maximum Heights
| | | | | | | |
| --- | --- | --- | --- | --- | --- | --- |
| Slat Axis | Η39 Polyurethane | Η43 Polyurethane | Η52 Polyurethane | 9Χ43 Aluminium | 14Χ55 Aluminium | 7,3Χ28 Ventilated |
| Φ40 | 2,00M | 1,90M | – | 1,50M | – | 1,00M |
| Φ60 | 1,90M | 1,80M | – | 1,40M | – | 0,90M |
[/av_tab]
[av_tab title='Box 18,5×18,5′ icon_select='no' icon='ue800′ font='entypo-fontello']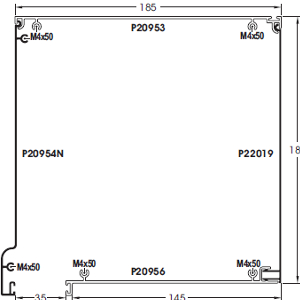 Box Height: 18,5cm
Box Width: 18,5cm
Maximum Heights
| | | | | | | |
| --- | --- | --- | --- | --- | --- | --- |
| Slat Axis | H39 Polyurethane | H43 Polyurethane | H52 Polyurethane | 9×43 Aluminium | 14×55 Aluminium | 7,3×28 Ventilated |
| Φ40 | 2,90M | 2,80M | 2,30M | 2,20M | – | – |
| Φ60 | 2,80M | 2,70M | 2,20M | 2,10M | – | 1,50M |
[/av_tab]
[av_tab title='Box 21×21′ icon_select='no' icon='ue800′ font='entypo-fontello']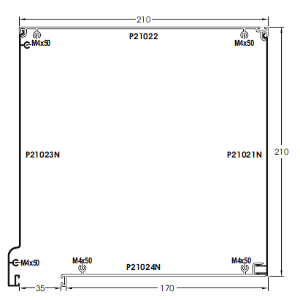 Box Height: 21cm
Box Width: 21cm
Maximum Heights
| | | | | | | |
| --- | --- | --- | --- | --- | --- | --- |
| Slat Axis | H39 Polyurethane | H43 Polyurethane | H52 Polyurethane | 9×43 Aluminium | 14×55 Aluminium | 7,3×28 Ventilated |
| Φ40 | – | – | – | – | – | – |
| Φ60 | 3,30M | 3,10M | 2,80M | 2,80M | 1,80M | 2,00M |
[/av_tab]
[/av_tab_container]